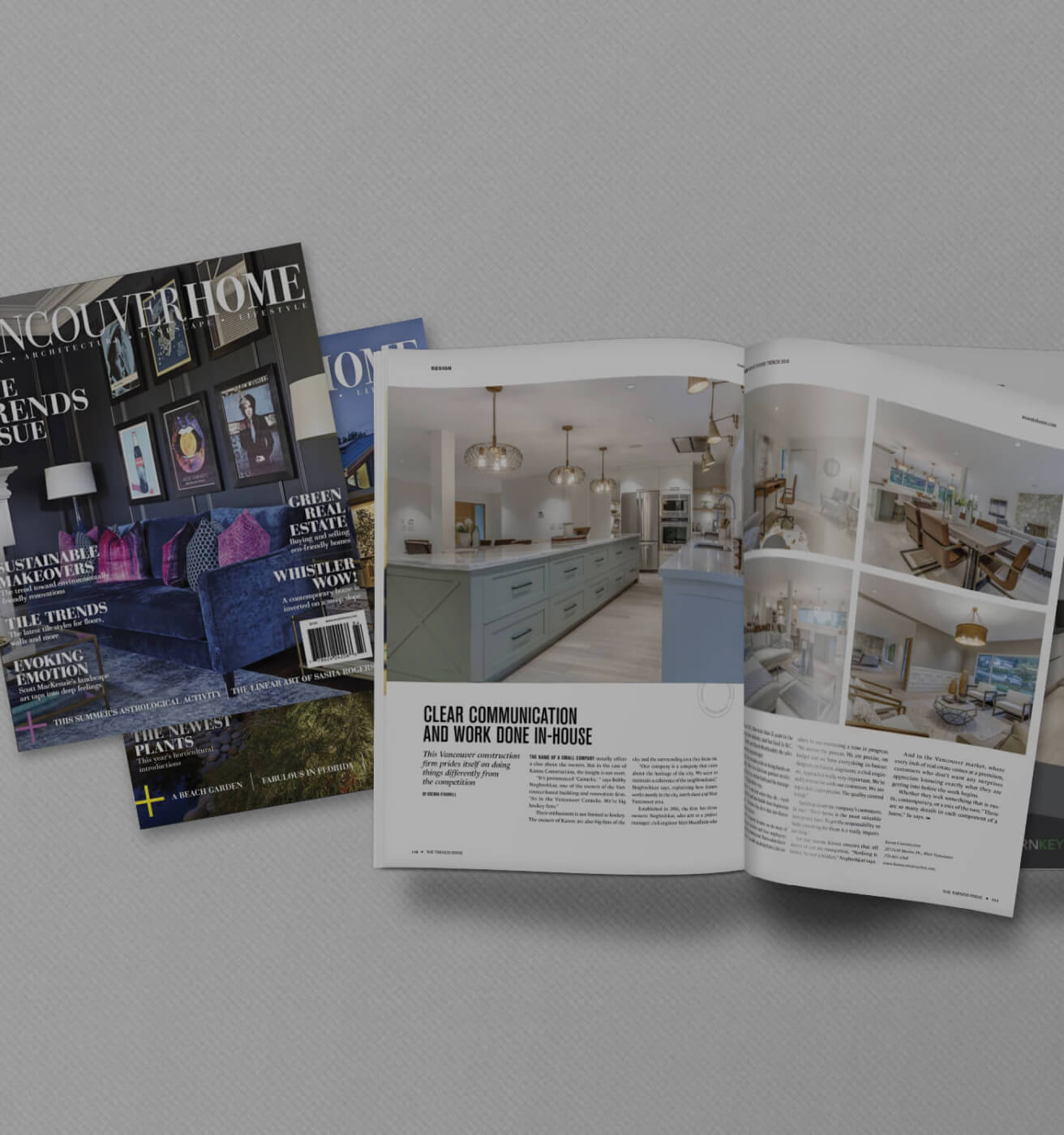 We started our journey in 2010, operating under the name Partiform Construction, in beautiful British Columbia. As the industry rapidly evolved; so did our company, we grew into one of the leading construction companies in the province by continuously delivering personalized and dedicated customer service.
With 25 years of experience and a remarkable reputation in the industry, we pride ourselves in knowing that most of our business is from repeated clients or referrals. Our vision for construction or development goes beyond following a sketch, we strive in bringing your vision to life.
My wife and I renovated two bathrooms and the kitchen of our condo. Before opting for Kanox, we asked for a detailed proposal and compared it to a proposal from another contractor.

Kanox came out on top for being sensitive to our needs, realistic, and fair. My goal in this review is to describe the work Kanox did for us. Kanox followed our strata's rules for hours of work, keeping public areas clean and unobstructed, noise level reasonable, parking as required, and so on. Inside our unit, Kanox used a small dumpster and large thick garbage bags to put debris until removal. This confined the waste material and dust. They also set up thick floor-to-ceiling plastic sheeting to protect the areas not being renovated. When material was removed (plaster, toilets, tubs, tile, cabinetry, metal fixtures), they laid down a protective surface in our strata's hallway to guard against damage. They carted all material safely away. Their workers all wore proper Covid masks. Their workmen were punctual, and we were told what to expect and when. Our questions were promptly answered. What work did Kanox do? In a nutshell, we redid floors and cabinetry, retiled and repainted, changed the lighting and mirrors, replaced counters and sinks, removed a bath tub, extended a shower and changed shower-heads, installed grab bars, brightened the rooms, and more. The practical goal was to make our condo easier and safer to use. For aesthetics, we wanted to modernize. We used designers for advice and to provide essential measurements, but our key contract was with Knox. This means that Kanox and their insurer had global responsibility for the construction.

I checked the contract's details and the insurance behind Kanox, and I was happy with both. Kanox did a wonderful job. Contractors generally use their own employees for some tasks and independent trades for others. I was happy with both. We received great value for our money. My wife and I had our own ideas of what we wanted, but I invited Kanox to contribute thoughts based on their experience, and was glad that I did. I'd recommend Kanox to anyone. I rarely post reviews. My approach to the world is that nothing is perfect. We wanted particular light fixtures, and the supplier thought he had them in stock, but his inventory was wrong. We had to choose alternatives. Our slide-out kitchen cupboard also took a month longer to arrive than expected. This meant that the project was complete and cleaned up before the last two elements were supplied. On the subject of cleaning up, Kanox did a fabulous job of it. Kanox finished the project just about when planned, and was great in keeping us informed about what was happening, why, and when. They were willing to go the extra mile for us. We've already recommended them to a friend.
"I have a long relationship as a designer with Kanox Construction team. It's been pleasure, fun and joy working with this team.
Matt, Kaveh and Bobby's great personality, honesty and in the same time professionality and sharpness at the job is impassive. Their excellent and high-end achievements are the result of paying great attention to the details and value all aspect of the design.
It worth to mention that every time I visit their job site, really enjoy the whole team's positive energy."
"I have seen several projects completed by these people, all look really professional and impressive. Visited my friends' condo, recently renovated by this company, the completed project looks excellent and clients are thoroughly happy. Very nice and professional people, a recommendable company!"
"We Admired their work! Everything was finished just in time for moving and the result was clean. They were very helpful in bringing our vision to life with cooperation.The management was great and they had a fantastic team. I would strongly recommend them."
"One of the best companies I've been able to work with. The whole team was very professional and organized. All jobs and services were done properly with care and attention to detail. Very clean and organized as well. I'm happy to have worked with them."
— KM Tile Ltd, Farshad Moradi
"After 18 years in our home it was long overdue that we needed a kitchen renovation. We searched around for years for the right contractor to help us with this project and we finally found KANOX CONSTRUCTION, Matt and Bobby! They were very knowledgeable, personable and professional about everything we needed. The team of experts made the whole process effortless from start to finish. Our kitchen looks amazing and they exceeded all our expectations!"