There's a major shift that happens when you move from the dreaming and planning stages of your renovation toward taking action steps. This is when things begin to feel real, and changes start happening. Once you've decided to renovate your home, here are the first X action steps you need to take to move your project forward:
Decide On A Budget
Part of the planning process usually involves creating a budget, but as you move on toward the action steps, the budget should never be far from your mind. Put your budget down on paper, get pre-qualified, and do preliminary research on average costs associated with materials and labor. Put 10-12% away for emergency expenses, and decide how you will handle unexpected costs.
Interview Construction Companies
Once you have an idea about what you want, it's time to start interviewing local construction companies. You should look for a reputable team that consists of architects, general contractors, and interior designers. If you can keep all aspects of the renovation with one company, you usually end up saving time and money. Some things you should ask as you interview potential construction companies include:
How long have you been in business?
Can I see examples of other work you've done? 
Do you have a contracting license and proper insurance?
Can you tell me who will be working on this project and their credentials? 
Who is my main point of contact?
What processes do you use to meet deadlines and stay under budget?
Don't be afraid to ask a lot of questions and check references. You are hiring a team that will be making significant changes to your home and you want to make sure they're known for getting it right.
Clean, Declutter, and Prep
As the start date approaches, you can set yourself up for success by being proactive. Clean out the areas that are being renovated and make sure it is easy for big trucks and machinery to navigate your property. You may have to move fences, swing sets, and patio furniture to make room for an addition. You may have to move furniture into storage or find a place for everything in your kitchen. Doing this before construction starts will save time and money, and reduce the risk that something gets broken or damaged.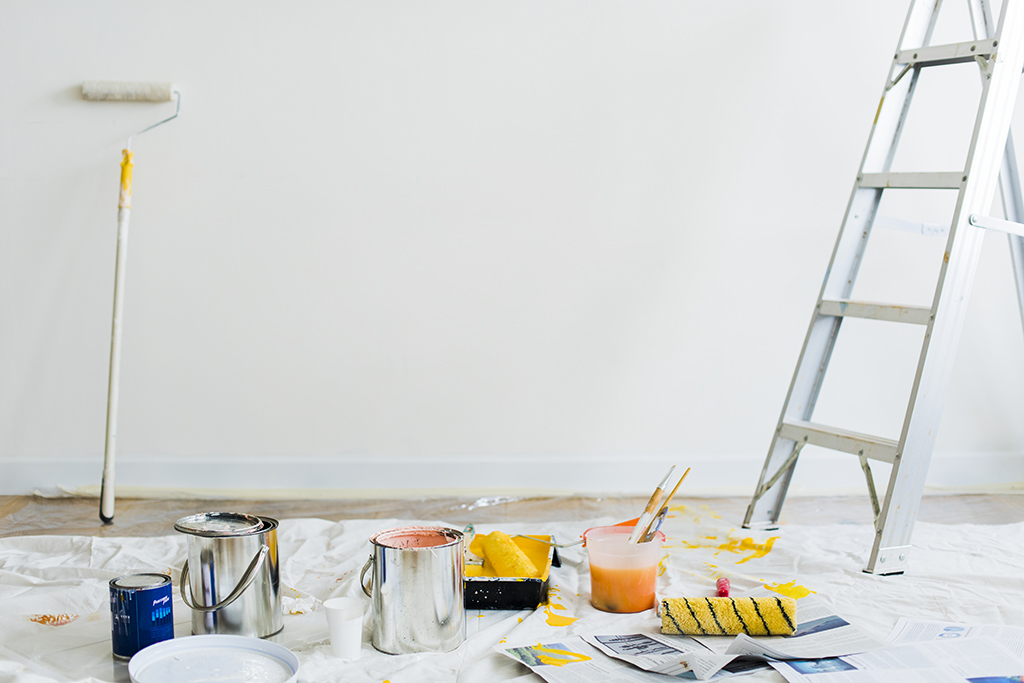 Research Permits
There's a lot of paperwork that goes into a home renovation, and obtaining permits can slow down a project. Most of the time, your construction company will handle this part, but it doesn't hurt to ask questions and sew what you can do to expedite the process. The construction company you work with will be able to walk you through the permitting process and know which types of permits you'll need for your specific renovation. If your general contractor isn't willing to pull the permits, it may be time to find another contractor. 
Create A Digital Organization System
During a home renovation project, you will acquire many receipts, contracts, official documents, permits, and other paperwork. Creating a digital organization system will help keep all of your documents in one place and easy to find, share, and send. This can be a good way to save and send progress pictures, as well as share spreadsheets and calendars with everyone involved.  
Make Alternate Living Arrangements
A home renovation project could take weeks or months, depending on the scope and scale of the project. Planning how you will adapt to these short-term changes will help take the stress out of the process. Will you need to move out completely for the duration of the project or just get creative in how you use certain areas of your home? What will you do with your pets while workers are on-site? How can you adapt the available living space to work for you until the project is complete? 
Knowing the answers to these things before renovations begin will help you feel more in control and help reduce unexpected inconveniences.
Final Thoughts
Home renovations take a lot of planning and prep work, but when you work with a reputable construction company, you don't have to go through it alone. If you're ready to move forward with the renovation of your dreams, contact our team of experts today to learn more about turning your vision into a reality.